Grant joined the group over five years ago as a beginner with no experience of silver and followed the beginner's course. He now produces a range of hammered jewellery and has exhibited at craft fairs in Oxford and Kent. He also makes items on commission.
Some more recent projects
I have just finished off this bangle which was made with  silver square wire 3.20mm. I'm going to make two more, one square and another D shaped. Very simple projects.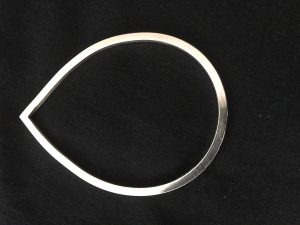 I have also just made a wedding ring for my neighbour and it has just come back from the Assay Office.
Again a simple project using some 9ct yellow D Shape wire.  (4.00mm X 2.00mm.) Another very simple project although a little pricey – the gold being £125.
Grant's latest project is an impressive knife, fork and spoon setting – destined to be a family heirloom.