Our beginners' course 2023

We expect to be running our next five-week beginners' course from 4 October to 1 November, however all places are already taken. If you would like to join the waiting list for this year, for subsequent years or want to discuss other teaching options, please contact John Huddleston.  Places are offered in the order of expression of interest.
The course runs alongside the normal group session on Wednesday evenings from 7-9pm in the workshops at John Mason School in Abingdon.  The maximum class size for complete beginners is six to allow for plenty of support and guidance.   There is room for others who have practical experience, but are interested in the theory parts of the course.  The course will consist of three talks that are interspersed with demonstrations.  There are two weeks of closely supervised practicals, where the students will make a silver ring and then they can choose one of a number of items of silver jewellery to make.
The course focuses on traditional silversmithing methods.  Laser welding, PMC, CAD and 3-D printing will only be mentioned in passing.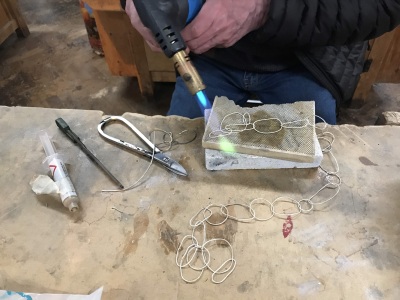 Week 1 Metals – properties and shapes, cutting, filing, soldering and polishing. Demonstration of making a ring
Weeks 2 & 3 – students make a ring then choose one of a number of projects
Week 4 More detail – Texturing, doming, raising, forging, casting methods and design
Week 5 More detail – Enamelling, assay, tools and tying up loose ends
(The order may change.)
The cost will be £75 payable in advance.  This fee includes all costs except the silver needed for your projects – probably £8-10 depending what you choose and (New for 2023) it will include your membership of the Abingdon Silver Group until the end of the Autumn term.  If you work instead in copper, which has similar properties, there will be no extra cost.
For any other questions about the beginners' course or to sign up, please contact John (link above)
The course will also give you a chance to sample the club and meet our regulars!
After the course, we would likeyou to continue with the club and come along every week, or when you can, to make whatever you would like – with continued support from more experienced members.  There is no regular tutor.  The class and club are only open to adults.
The images on this page are pieces made by people on or after the beginners' course.