Our beginners' course 2021

We will be running our next five-week beginners' course for five consecutive weeks from 6 October  to 3 November, subject to Covid 19 restrictions and sufficient demand. Please contact John Huddleston if you are interested in attending the course. Currently the course is fully subscribed, but if you would like to join the waiting list for this year or subsequent years please contact John.
The course runs alongside the normal group session from 7-9pm in the workshops at John Mason School in Abingdon.  The maximum size is nine to allow for plenty of support and guidance.   The course will consist of three talks that are interspersed with demonstrations.  There are two weeks of closely supervised practicals, where the students will make a silver ring and then they can choose one of a number of items of silver jewellery to make.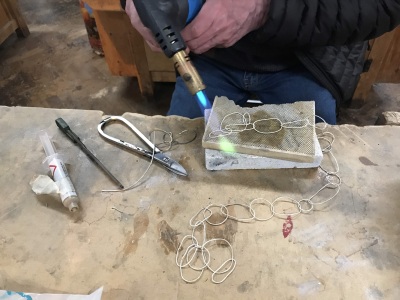 Week 1 Metals – properties and shapes, cutting, filing, soldering and polishing. Demonstration of making a ring
Weeks 2 & 3 – students make a ring then choose one of a number of projects.
Week 4 More detail – Texturing, doming, raising, forging, casting methods and design
Week 5 More detail – Enamelling, assay, tools and tying up loose ends
(The order may change.)
The cost will be £50 payable in advance.  This fee includes all costs except the silver needed for your projects – probably £8-10 depending what you choose.  If you work instead in copper, which has similar properties, there will be no extra cost.
For any other questions about the beginners' course or to sign up, please contact John Huddleston on 01235 524866 or email john@jhsilver.co.uk.
The course will also give you a chance to sample the club and meet some of our regulars!
After the course you are welcome to join the club and come along every week to make whatever you would like – with continued support from more experienced members.  The class and club are only open to adults.
The images on this page are pieces made by people on or after the beginners' course.